Sapi Island is one of the most popular places in Sabah to swim, snorkel and relax and it is just 20 minutes boat ride away from Kota Kinabalu.
Sapi is one of the five islands making up the Tunku Abdul Rahman Marine Park, a national park established in 1974 covering 50 sq km of the islands and their surrounding with reefs.
Sapi island is like Manukan, but smaller and is the second most developed and popular island in the park. It has basic restaurant facilities,toilets, snorkelling equipment rental and a few representative stands for water sports agents. Shallow water snorkelling offers some excitement, especially as the fish react favorably to tourists who usually feed them bread. There is a sand bank to the north of the island, which, at low tide, makes it possible to cross over to the south western tip of Gaya island.
Diving: There is a coral garden at the southeast tip of the island. Stingrays, cuttlefish and moray eels are among the marine life found here. Good place for beginners.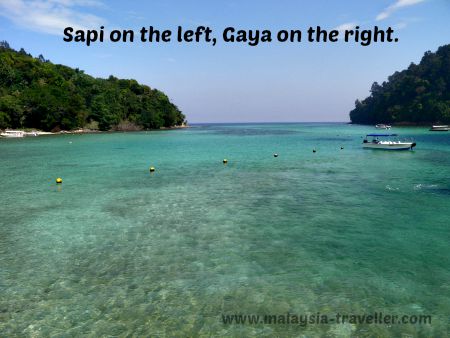 Walk to Gaya Island. At low tide it is possible to walk across the sand bar connecting to Gaya though you need to take care not to get cut off.
Scuba-Doo Breathing Observation Bubbles. Motorbike-style mini-submarines are available for hire enabling you to enjoy a scuba diving-like experience while breathing normally in a safe air bubble.
Nature Trail. There is a 5 km trail which skirts the island and takes you up to its highest point. On the way you can find a small deserted beach if you want to escape the crowds. If you have shoes with you other than flip-flops it is best to wear them while walking the trail.
Monitor Lizards. One of the island's most popular attractions is the presence of giant (2m long) monitor lizards who like to scavenge from litter bins and are not at all afraid of humans. I nearly trod on one when I was not looking where I was going! These are wild creatures with sharp claws and a nasty bite and you should keep your distance when taking photos.
Pulau Sapi has many lizards that roam and become a tourist attraction especially from abroad because they thought it was a komodo dragons.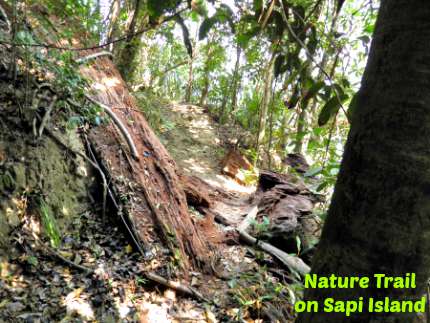 Macaques. These monkeys are cute to look at but are a bit of a pest, especially if they steal your bag or camera. Better not to feed them.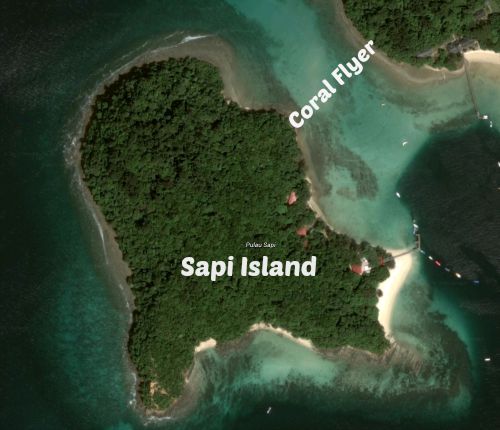 The coolest attraction on Sapi Island is probably the Coral Flyer which claims to be the longest island-to-island zipline in the world. This flying fox (aerial rope way) links Sapi to Gaya Island, a distance of 250m at speeds of up to 60 kph.
This is a professionally managed operation with safety in mind. Trained and qualified personnel and strong harnesses and cables ensure a smooth trip. Unless you weigh over 10 tons you should be OK!
Ticket Cost is RM 64 and includes a boat transfer to Gaya and return journey by zipline. The ride is open from 10am to 3pm. You can buy tickets on arrival at the Sapi jetty.